Software Devlopment
We create Software solutions that are client-focused, customer-centric to deliver tangible business results. Our Software developers help you grow in the ever-changing digital landscape
Software Devlopment
Apinnovate is a software development company that specializes in providing our clients with high-quality software development services. The fundamental principle in everything we do lies in solid ethics, collaboration, tenacity, and responsibility. We are experienced, dedicated, and work with professionalism .The bigger a business gets, the more diverse its software needs to become
Our Software Devlopment Services
Custom Software Development
We develop enterprise-grade software that is secure, scalable, and flexible to meet your organization's needs. Our development services include mobile apps, web applications, and custom software solutions.Our custom web development solutions accelerate workflows, boost revenues, and optimize business operations from concept-to-code and development-to-deployment
AI Based Software
Our AI/ ML dedicated developers build world-class AI Solutions to accelerate your digital transformation and cater to different verticals like eCommerce, healthcare etc.eing a leading app development company, our cross-functional teams build a wide range of independent AI/ML apps that adhere to the highest level of security and industry standards.
Cloud Software
Our cloud consulting services will enable you to attain projected benefits through a seamless transition to cloud-based applications.Once cloud-enabled, you can easily set up new projects or test environments, build proof of concepts, and be as agile as your customers dictate
Desktop Application
We have experience in creating boxed and licensed solutions for various platforms in our portfolio. With us, your next market-winning product will be in good hands because we have all the in-house capabilities including analysts, architects, UX/UI specialists, engineers and QA to success in such projects.
Software As A Service
Apinnovate Offers Software-as-a-Service (SaaS).which allows access to software a subscription basis using external servers.we have various SaaS software Like Hr Management,Inventory Management,Attendance management System , Erp Software etc
Outsourcing Software Development
Software outsourcing services involve working with a third-party team with special skills and expertise. Today, businesses worldwide work with software outsourcing companies to access expert software engineers who boast a range of tech skills from UX design to blockchain consulting
API Development
Apinnovate developers-for-hire provide robust API development and third-party API integration services using REST, SOAP, XML, and RPC API protocols, extending the functionality of your current application with new and existing third-party systems & devices.
UX/UI Design
As a custom web development company, we offer the best development solutions utilizing multiple platforms. Our versatile desktop and mobile UI/UX development services leverage the full strength of these systems to provide computing power, enhanced graphics, robust security standards, and greater performanc
Product Lifecycle Management (PLM)
Quality Assurance (QA) Testing
We provide comprehensive quality assurance (QA) testing services to deliver high value-added and agile-aligned software solutions and applications.
Data Migrations & Upgrades
We perform cloud-based data migrations, system upgrades, and other vital software modernization services, prioritizing system uptime and data integrity.
SLA Support Services
We meet your contracted Service Level Agreements (SLA), guaranteeing SLA compliance and ensuring optimal monitoring, reporting, and management of your SLA services.
IT Security Services
Our thorough threat audits help us identify your infrastructure's most critical vulnerabilities, allowing us to implement the encryptions & protocols you require.
Data Backup & Disaster Recovery
We implement robust data backup and recovery strategies for cloud-based, on-premise, and hybrid servers designed to ensure data integrity and business continuity.
Infrastructure Support Services
We provide holistic IT infrastructure support, including help desk management, custom messaging & collaboration, network management, and system administration services.
Custom Software Solutions
Customer Relationship Management (CRM) Solutions

Our software engineers and developers create custom CRM solutions that best fit business objectives, installing and migrating industry-leading platforms, such as Salesforce, SugarCRM, Microsoft Dynamics, SAP, and more for seamless CRM integration.

Enterprise Resource Planning (ERP) Solutions

We develop custom ERP solutions by revamping existing solutions or developing ERP systems from scratch, designed to cover core business functions, including inventory & distribution management, production, accounting, and more.

Real-Time Communication

Our developers work within your nearshore time zone to allow for real-time collaboration. We work to achieve a true "branch location" feel. We infuse accountability and transparency into our model with regular management and progress reports
Point-of-Sale/Payment Processing Solutions

Our point-of-sale (POS) programmers seamlessly integrate industry-leading solutions and POS terminals, including Clover, Verifone, Ingenico, Stripe, Worldpay, and more, into your business systems to enable easy payment transactions.

Usability Testing Solutions

Our usability testing experts optimize ease of navigation, user engagement, element functionality, consistency across multiple environments, integrations, implementations, and information flow by utilizing their UI and GUI testing methodology. We can perform white or black box user testing, depending on needs.

Scalable Business Model

We work with you to find the areas that are best suited to bring you value. Based on your needs, our flexible business model gives you the option to increase or decrease the size of your dedicated team at any point of the lifecycle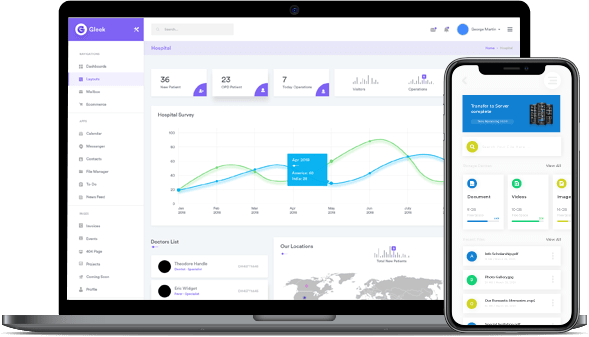 Explore More Services
Experienced team to consult and implement ERP and CRM solutions based on Client Requirement,Our ERP System help Industries to work Smoothly and they can focus on their work more efficiently.
We have experience in designs, develops and delivers mobile apps across all the major platforms, including iOS, Android... We will be providing end to end solutions for...
We offer a wide range of professional web application development services in various industries: healthcare, banking, retail, manufacturing... with the latest web development trends.